Saturday the 8th September, Andrea Bocelli will arrive in the spectacular frame of the Arena of Verona with "La Notte di Andrea Bocelli", a colossal exhibition of music and solidarity, drived by the tenor with international Guests.
"The Arena is a magical place - says the Artist on his return to Verona - a monument that has two thousand years of life and that for over a hundred contributes to writing the history of the Opera. [...] Singing in the Arena was the dream of my youth as a tenor apprentice, then it became an emotional reality, to which I linked the memory of crucial moments of my career. " These are some of the words that the great Artist uses to describe the feeling that he feels to sing in the Verona downtown.
Bocelli, during the show, will be joined by names such as Carla Fracci, Isabel Leonard, Aida Garifullina, Sergei Polunin and Leo Nucci. Also, many places of the stalls will be occupied by VIP guests.
It will not only be a simple show, but solidarity will also be the driving force behind the whole event. From the evening at the Arena will be raised funds to support the projects of the Andrea Bocelli Foundation and the Muhammad Ali Parkinson Center.
The spectator will be guided in the world of the Opera with the participation of various personalities from the world of cinema, sport and other arts, involved in music through unpublished inedities and surprising cameos; how we were on the set of a film that will have the beauty of the Arena of Verona as a backdrop.
During the evening, the Artist will perform for the first time live some of the unreleased tracks of the new album "Sì", it will be released on the 26th October.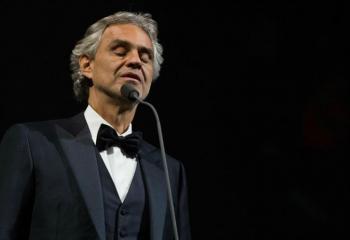 ---