For beginners or Opera's lovers, we give you some interesting notes about this great Opera of the italian composer, Giuseppe Verdi.
It was composed in 1842, in collaboration with the librettist Temistocle Solera, "Nabucco" is a lyric drama in four acts.
They story is based on a Bible story of the Old Testament, which tells the story of the Babylonian Emperor, Nabucodonosor, whom conquered Jerusalem and make slave the Jewish people.
You will have the pleasure to see this great Opera in the amazing Arena of Verona this summer on these days:
July: 07, 12, 20, 28;
August: 10, 18.
If you need more info, don't hesitate to contact us.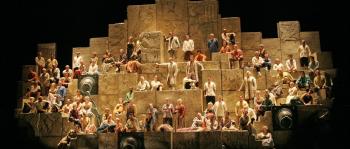 ---