"Amore! amore! Gaudio... tormento... "
Aida - G. Verdi
Aida is an Opera in four acts by Giuseppe Verdi on the booklet of Antonio Ghislanzoni about a subject of Auguste Mariette.
The first representation was at the "Kedivial Opera House" of Il Cairo on the 24th December 1871 in the special occasion of the grand opening of the Suez Canal.
The Opera is about a love story between an Ethiopian princess who lives as a slave in Menfi where she falls in love with Radames, the commander.
Come and discover "Aida" in the unique frame of the Arena, where it will be directed by the genius of Franco Zeffirelli.
"Aida" will be represented as follow:
- 28th June;
-8th, 10th, 14th, 19th, 22th, 27th July;
- 2nd, 5th, 7th, 11th 19th, 23th, 29th August;
- 1st September.
We remain at your disposal for tickets and other info!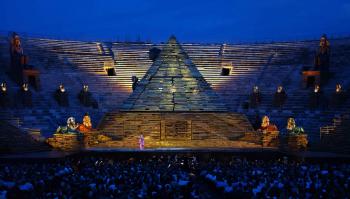 ---