The Opera's season continues with Turandot written by the great author Giacomo Puccini.
Turandot take place in Beijing in a not defined age and it tells the story of the princess Turandot, a young and very beautiful girl but lonely and she hates men due to an old story of the ancestress which was victim of a violence. So, Turandot don't want to be married with a man for the rest of her life. But the father, the emperor Altoum, desire that she will be married.
Turandot, tired of these influences, decides to marry only the one that will be able to answer to three mysteries. if the competitors fail, they will die.
Many people try this challenge but without any results.
Calaf, a young depose Persian prince, which would like to win the challenge.
Calaf wants to seduce the cold and beaty princess. He discovers all the enigma and Turandot, scared because she doesn't want to marry him, accept the propose of Calaf: before the sun rise, she has to discover his name so she won't marry him, otherwise she has to do it.
Calaf will thell her his name, after a passionate kiss, then she falls in love with him and will tell to her father that his name is "Love" and she marries him.
Turandot will be represented on July the 13th, 18th and 26th.
For more info and availabity for reservation, don't hesitate to contact us.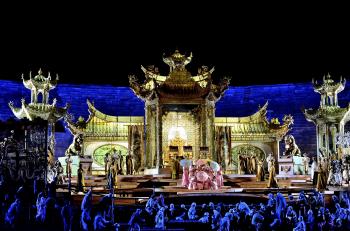 ---