Till the 25th February 2018, you have the possibility to Visit the special exhibition of Botero at AMO's Museum in the heart of Verona!
At AMO's Museum of Verona it's in exposition till the 25th February 2018 a selection of more than 50 painting of the great Colombian artist, Fernando Botero which end in our city the celebration of 50 years of career. Outsized bodies, fairy atmospheres, extravagant colours and shapes...Botero is this and more...
He is an artist that don't stay inside a model of art but he creates one to express his artistic research to become an endless poetic way.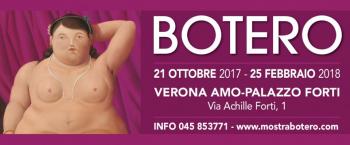 ---